HALAL BBQ PIT MASTERS
Regular price
Sale price
$11.00
Unit price
per
Sale
Sold out
Halal BBQ Pitmasters Texas Tandoori Rub 
The complex flavors of tandoori in a simple rub. Tandoori cooking has been around for 5,000 years and now it can be yours in a bottle!  Try our award-winning tandoori rub on chicken, beef, lamb, seafood, tofu, paneer, momos, and vegetables. Exclusively available online!  Note: a portion of profits will go towards families in need.
Authentic flavor with a twist. We use actual Kashmiri chili and add a Texas touch. It is bold and spicy without too much heat, and lets you achieve authentic tandoori flavor without any need for a specialized tandoori oven or messy yogurt marinades. Texas Tandoori can be used on the grill, oven, stove top, air fryer....anything that allows you to cook with high heat.
What do the pros think about Texas Tandoori? 
"Texas Tandoori rub: authentic flavors to crave."

 

- independent review by professional recipe developer Brad Prose (@chilesandsmoke)
"It's not often I find a product I don't modify in *some* way. I'm telling you, Texas Tandoori need not be touched or modified. It is INSANELY delicious! Little heat, a little smoke, and every single bite is incredible. I've tried a LOT of rubs over the last 2 years. This is one I will ALWAYS have on hand...Easily in my top 5 of all time." - professional BBQ competitor @slothstradamusbbq.

"We are O B S E S S E D. We've used it on meat, vegetables and even sprinkled a bit on popcorn... it's delicious. The flavors mimic that of a clay oven (Tandoor) and are perfectly balanced with a warm blend of spices. It's also got the slightest heat because of the mild and flavorful Kashmiri chilis."- Instagram influencer @dallaseatandplay
Tips to prepare (see Halal BBQ Pitmasters Instagram highlight).
Use it as a dry rub - apply liberally to meat. 

Use it as a wet rub or marinade - for every pound of meat, mix 1.5 tablespoons of a neutral oil (canola oil) with 3 tablespoons of Texas Tandoori. No need to use yogurt.

For red meat (steak, goat, lamb), we recommend adding salt (to taste)
Nutrition. We value good health and hold our products to the same high standards we have for ourselves and our families. Texas Tandoori has all natural ingredients, low salt, no artificial colors, no MSG, no gluten, and no sugar. Ingredients: Chili Powder, Paprika, Kosher Salt, Garlic, Citric Acid, Coriander, Turmeric, Cardamom, Cumin, Ginger, Cloves, Nutmeg, Natural Mesquite Smoke. 
Share
View full details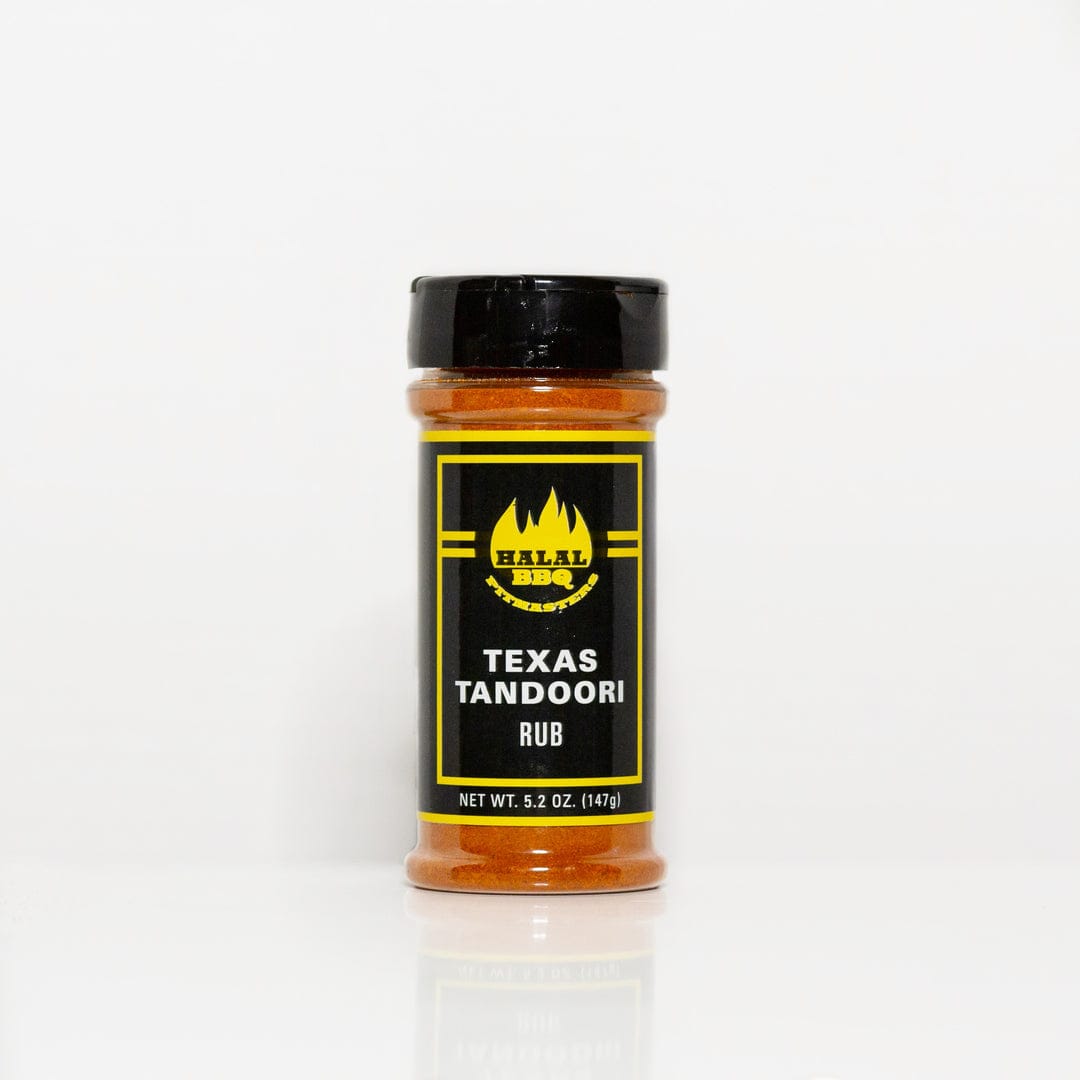 DON'T MISS OUT ON THESE KITCHEN ESSENTIALS THIS THANKSGIVING!